Fuels Compatibility Statement
All steel tanks are compatible with all blends of fuels meeting ASTM standards. Ethanol blends from E10 to E100 and blends of biodiesel from B2 to B100 can be stored in steel tanks. Recent work has been performed to assess the viability of fuel blends using Isobutanol.
Steel and Alternative Fuels Compatibility Studies
Alternative Fuels Information
Alternative Fuels: Information by State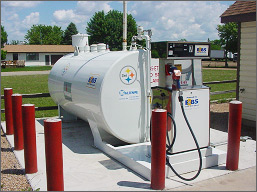 The Strong Company, Inc.
The Strong Company offers specialized cementitious products, including solutions for above-ground steel fuel storage tank insulation, providing a total system of engineered products, specialized equipment, and complete customer service.
www.strongseal.com
"STI/SPFA has been a huge part of the Acterra Group's success over many years."
Tad Cooper
Acterra Group, Inc.