SPFA Pipe Quality Certification Program
The SPFA Pipe Quality Certification Program is a major accomplishment achieved by many STI/SPFA pipe fabricators.
The SPFA Pipe Quality Certification is a requirement in most piping specifications in the United States water transmission industry. The program addresses:
Quality assurance and control
Lining and coating operations
Equipment and welding procedures specific to steel water piping
Management, organization, engineering and procurement practices
Rigorous annual audits are administered through a third-party quality assurance organization. Full inspection and recertification is required every three years.
Pipe system owners and engineers who require SPFA Pipe Quality Certification can be confident that their pipe and fittings will conform to both the defined requirements of AWWA steel pipe standards and the intent of a quality product.
Company
Location(s)
American SpiralWeld Pipe Company, LLC
Birmingham, AL
Columbia, SC
Flint, MI
Paris, TX
Cohen Industrial Supply
Houston, TX
Custom Piping Systems, LLC
San Antonio, TX
Desert Pipe
Mesa, AZ
Hallmark Industrial Supply
Houston, TX
Imperial Pipe
Riverside, CA
Jifco Inc.
Livermore, CA
Kosse, TX
Mid America Pipe Fabricating & Supply
Scammon, KS
Professional Piping Systems, LLC
Phoenix, AZ
Skyline Steel
Longview, WA
Iuka, MS
Southland Pipe Corp.
Rialto, CA
T Bailey, Inc.
Anacortes, WA
Tennessee Metal Fabricating Corp.
Rock Island, TN
Thompson Pipe Group
Grand Prairie, TX
South Beloit, IL
Utility Coatings & Fabrication
West Jordan, UT
VanCon, Inc.
Springville, UT
West Coast Pipe
West Coast Spiral Pipe
Rialto, CA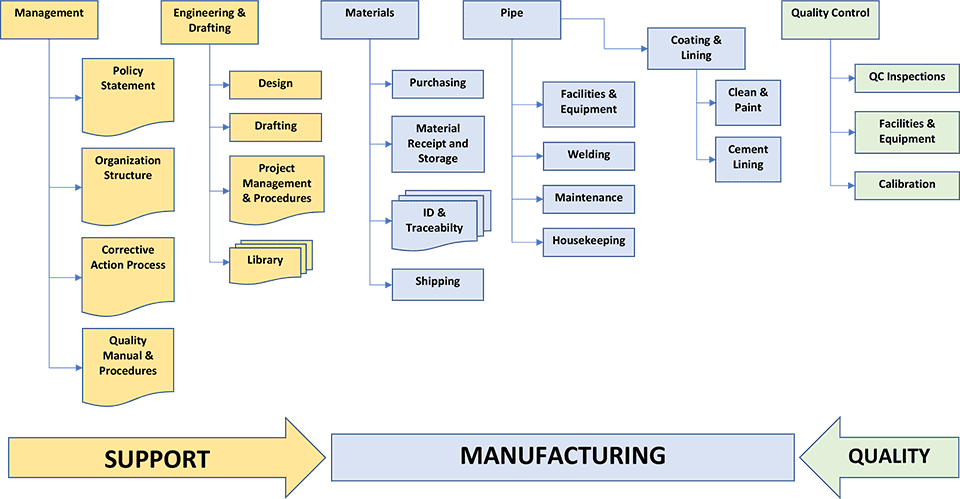 SSAB
SSAB Americas is one of the largest North American producers of quality steel plate and coil, serving industrial markets including energy and transportation.
www.ssab.com
"SPFA has helped not just us but the steel water pipe industry as a whole by having such a high standard of Quality Assurance Auditing."
Nik Parsons
Mid America Pipe Fabricating & Supply, LLC