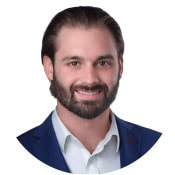 Trey Stokes is the Associate Director of Cybersecurity Education and Awareness for Alliant Cybersecurity.
Trey speaks with hundreds of C-level executives each year across a broad array of industries educating them on how they can protect their businesses from cyber threats. Before joining Alliant, Trey served at AT&T advising mid – market clients across the US on network and security design and implementation with a specialization in cybersecurity.
Trey holds a Masters degree from the University of Alabama's Culverhouse College of Business and a bachelors in psychology.
Experience
Multiple years consulting within the mid – market business regarding network and security design
Actively reaches out to clients nation wide to better strengthen the security of SMB's
Creates strong relationships with clients to create awareness within the Cybersecurity Practice
Advise clients in current events that affect businesses every single day
Assist mid-market businesses with identifying gaps within existing privacy programs and designing solutions to address those challenges
Provides knowledge concerning compliances in all sectors synonymous with local, state, and national compliance requirements