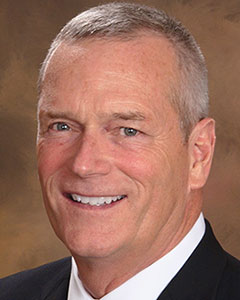 Randy Moore is the Director of Sales-Agency Development and Industry Affairs for Tnemec Company in Kansas City, Missouri. Randy has over 35 years of sales and marketing experience in the water industry. As creator and current Co-Chair of the AWWA Innovation Initiative he is a nationally recognized innovation industry thought leader. He has been an active member of NRWA & AWWA since 1981.
Randy has been a regular presenter at NRWA and with many RWA State Associations. With AWWA he has served on the Board of Directors as the Service Provider Director-at-Large Manufacturers & Associates Council Vice Chair, Innovation Initiative Co-chair, Technical & Education Council liaison and has served on a number of standards committees. Randy currently serves as a Vice President with AWWA and as the Service Provider Director at Large on the AWWA Board of Directors. He is a creator/moderator of many webinars and regular contributor to Opflow. Randy was appointed by the Governor of Missouri and served as a Commissioner on the MO Safe Drinking Water Commission.
Randy holds a BS degree in Metallurgical Engineering, MS in Engineering Management from the University of Missouri-Rolla and an MBA from the University of Missouri-St. Louis. He lives in St. Louis, Missouri.