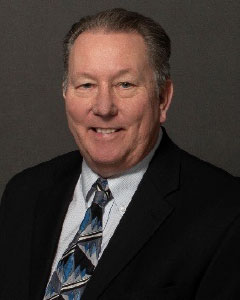 Michael Pischke began his career in 1978 as a pipe welder in the construction of a nuclear power plant. For the next ten years, he was an ASME qualified pipe welder working in both a factory and field sites. He welded primarily in the fabrication, repair and alterations of pressure vessels and piping systems.
After ten years as a welder, Mike entered college full time to pursue his Bachelor of Science in Metallurgical Engineering (BS MetE) and later a Masters of Science degree in Materials Science and Engineering (MS MatS). During his time at the University of Minnesota, Mike worked part time as both an undergraduate and graduate research assistant. His research included heavy metal ion adsorption, metal-to-ceramic bonding and high temperature oxidation. In addition to research, Mike also worked as a Teaching Assistant, responsible for an undergraduate "Material Properties" Lab.
Upon graduation Mike worked as a QA/QC Welding Manager at Tampella Power; a newly opened boiler factory in Fairmont, West Virginia. He worked with Design, Development and Manufacturing Engineering to develop Welding Procedure Specifications, Welder Training program, NDE and Post Weld Heat Treatment procedures. Mike also implemented a new ASME/National Board NBIC Quality Management System at this location.
Beginning in 1995, Mike worked as the Quality Manager for Alfa Laval, Inc., a heat exchanger company in Richmond, VA. There he managed ISO 9001, ASME Section VIII, and NBIC Quality Systems at a factory that produced approximately 4500 ASME Code stamped pressure vessels, annually. Mike implemented a "Mass-Production" Quality System; reducing the amount of third party inspection requirements, improving productivity, and allowing for more flexibility in the manufacturing process. Mike was also the company's sole representative on the ASME Code Committees where he introduced new rules for laser beam welding and brazing into both ASME Sections VIII and IX.
For over five years, Mike worked as Quality Director at Alstom Power (GE), in Chattanooga, TN. In this role, he was responsible for both ISO 9001 and ASME Quality Management Systems at this location as well as three other factories in the U.S. During this time, Mike served on the National Board's, Board of Trustees Advisory Committee. He also continued his active participation in ASME Boiler and Pressure Vessel Code Committees.
Since 2018, Mike has served as the Assistant Executive Director-Administrative at The National Board of Boiler and Pressure Vessel Inspectors in Columbus, Ohio. In this role, Mike is responsible for the Facilities, Communications, and Training departments. He continues to serve on the ASME Boiler and Pressure Vessel Code Committees on behalf of The National Board.