Updated comprehensive guide to OSHA training requirements now available
Updated comprehensive guide to OSHA training requirements now available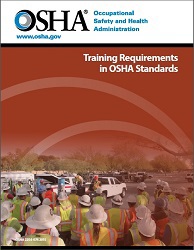 OSHA has posted a fully updated version of its guide to all agency training requirements to help employers, safety and health professionals, training directors and others comply with the law and keep workers safe. Training Requirements in OSHA Standards* organizes the training requirements into five categories: General Industry, Maritime, Construction, Agriculture and Federal Employee Programs.
The safety and health training requirements in OSHA standards have prevented countless workplace tragedies by ensuring that workers have the required skills and knowledge to safely do their work. These requirements reflect OSHA's belief that training is an essential part of every employer's safety and health program for protecting workers from injuries and illnesses. For a list of educational materials available from OSHA, please visit the Publications webpage
Phoenix Forging Company
Phoenix Forging Company, a member of the Phoenix Forge Group, is a proud domestic manufacturer of steel tank and cylinder fittings based in Catasauqua, PA. Phoenix Forge was founded in 1882.
www.phoenixforge.com
"Networking at STI/SPFA meetings has given us new ideas to manufacture our products more efficiently."
Sonny Underwood
Mid-South Steel Products, Inc.