Tank Pressure and Tank Pressure Monitoring is important. Tank Pressure Monitoring allows us to monitor the tightness or porosity of a tank system, this is important as a  tight tank;
Is an important part of preventing moisture from entering the tank system, moisture that condenses and accumulates in the tank providing a crucial component necessary for  bacterial growth that acidifies the tank system. 
Moisture supports MIC (microbe induced corrosion), the bugs that are destroying tank equipment.
The corrosion that is clogging filters, destroying meters and blender valves.
The premature failure of nozzles and impact vavles.
The acidity causing tank bungs and striker plates to fail.  
Tank Pressure Monitoring is important to recognize and prevent PVI (Petroleum Vapor Intrusion). PVI is saturated hydrocarbons pushed into the surrounding backfill during tank pressure events described below. This hydrocarbon vapor condenses in the soils;
Polluting ground water.
Migrating through the soils, degrading kiosk and in-store air quality, contaminating basements and sewers and nearby buildings. 
Tank Pressure Monitoring is also important as it has been identified that under certain circumstances tanks are being severely over-pressurized, over pressurized to the extent that tank damage and premature tank failure is possible. It has been identified that during tank filling operations certain installed equipment and practices can cause over-pressurizations. For example:
          Ball float valves, when they perform their intended function, can cause a severe shock, measure as high as 30 psi. This type hydraulic shock is high enough to damage/ rupture a fuel storage tank.
           Defective or sticking vent P/V valves 
       Not hooking up a return vapor line to a truck, small/undersized vapor return lines, or damaged/defective vaporleturn equipment can cause over-pressurization of the tank system.
A Pressure Correction Monitoring Device Gauge (A-PMD)
Primary Purposes: 
Continuously monitor pressure and visually correct for reconciliation of fuel in primary tank.
Basic Device Components:
Enclosure (component) optional
Coupling connection 2 or 3-inch (primary space riser)
Fuel level pressure vacuum pressure gauge
Fundamental Operation:
Register positive, negative and or no pressures and visually report correct fuel level.
Configured in Fueling System
Above and below ground fuel storage tank primary space vent or monitoring riser.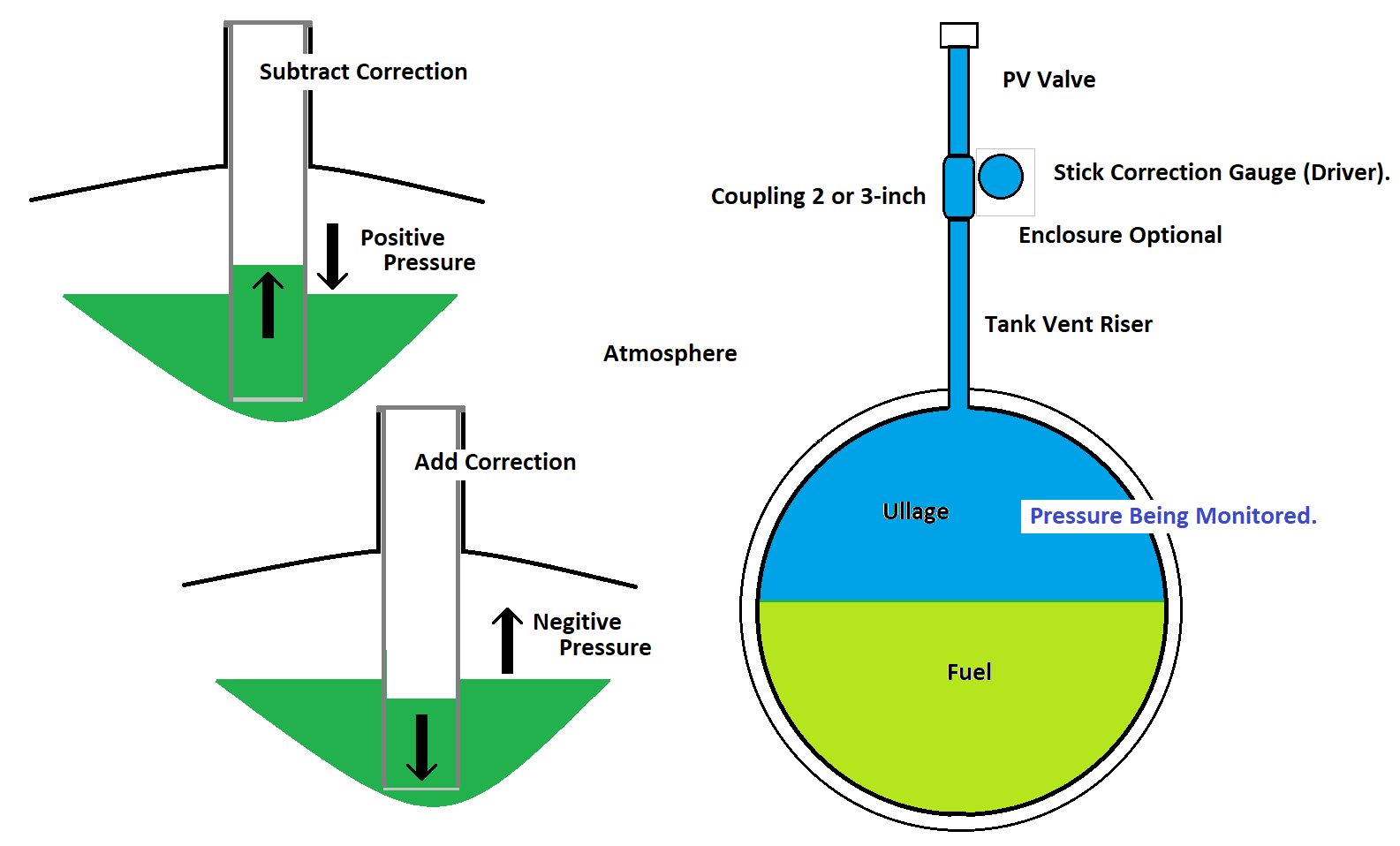 This article was provided by Zane Miller and Greg Young. You can contact Zane at admin@orvr.us or (770) 780-2700. You can also find more information at vaporless.com. 
SSAB
SSAB Americas is one of the largest North American producers of quality steel plate and coil, serving industrial markets including energy and transportation.
www.ssab.com
"Networking at STI/SPFA meetings has given us new ideas to manufacture our products more efficiently."
Sonny Underwood
Mid-South Steel Products, Inc.