Houston is Vessel Country!
2009 Pressure Vessel Conference
Did you miss the 2009 STI/SPFA Conference? Read about this highly ranked event and download presentations from industry experts and visionaries (at left, below).
Over 80 pressure vessel fabricators and suppliers were joined by Safety & Health Professionals and became short-term members of Pressure Vessel Community in Houston for two days in September.
September 23 and 24 were set aside to catch up on industry news, learn of new trends, codes and processes and to hear about current conditions and 2010 industry predictions.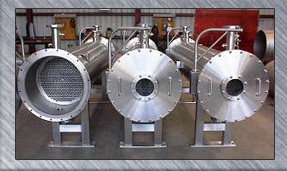 AGENDA HIGHLIGHTS
SUMMARY of ACTIVITIES AND CONFERENCE PRESENTATIONS

Wednesday, 9/23 – Safety & Health 

Wednesday, 9/23 – Trinity Heads Tour

Committee Meeting  – 8:00 – 12:00 noon

Travel to Navasota, TX – 1:00 – 5:00 p.m.
Thursday, 9/24
Speakers & Topics
As with all STI/SPFA Program Events, the agenda for the Fall Conference afforded sufficient time for fabricators and suppliers
to network and exchange ideas and best practices to deal with the demands of the industry and the current economy.
John Curry, independent consultant, opened the program with a decade-by-decade review of the fabrication industry. Beginning with the period following World War II, he layered in the economic, political and geographic changes that have contributed to current conditions.
David Allore  of Hartford Steam Boiler covered boiler and pressure vessel fabrication requirements under international codes and reviewed the Pressure Equipment Directive (PED), the law in Europe designed to ensure equipment safety.
Quality Assurance and Non-Destructive Evaluation (NDE) were the focus of Phil Grimm's remarks. Grimm, from Modern Welding, provided delegates with a summary of ASME and ASNT, in addition to NDE training, examination and certification levels for professional development.
In his Energy Outlook, Todd Onderdonk of Exxon Mobil concluded that an integrated set of global solutions will be required to address growing economies and populations. Technological advances will also be needed to manage energy demand and efficiencies and mitigate CO2 emissions.
Mechanized cutting and critical factors that must be considered, such as selecting a process, determining configurations, and collecting data to ensure the best ROI were covered by Joe Sorvaag of ESAB. 
After lunch, Gary Carinci of the International Molybdenum Association looked at the fabrication of duplex stainless steel in depth. He reviewed chemical composition, mechanical properties, cutting and forming, machining, welding, and post-fabrication cleaning.
Jerome Spear of J.E. Spear Consulting, LP reviewed Feasibility and Work Practice Controls that will become effective in May 31, 2010. He also provided practical considerations and a systems approach to address the new requirements.
Scott Draudt of Outokumpu Steel and Kent Thies of Claymont Steel served on the Steel Panel. Mr. Thies' presentation may be downloaded at left.
SSAB
SSAB Americas is one of the largest North American producers of quality steel plate and coil, serving industrial markets including energy and transportation.
www.ssab.com
"STI/SPFA provides excellent safety resources and information, as well as a platform for members to discuss EHS challenges and solutions."
CJ Hineman
Fisher Tank Company