Pressure Vessels: Technical Workshop, Sept. 25 in Houston
STI-SPFA brings industry experts to Pressure Vessels: Technical Workshop

Whether you're a specifier, designer, engineer, or fabricator, don't miss this opportunity to expand your technical knowledge!
Andy Personett, VP Technical, New Castle Steel. What makes stainless steel "stainless?" Andy presents the basics of material selection and the characteristics of stainless steel. He has been with New Castle and its predecessors (Outokumpu and Avesta Sheffield) for 20 years and has extensive experience in material specifications and testing, process metallurgy, and material selection for end-use applications.
Noon-1:00 pm    Lunch (included in registration)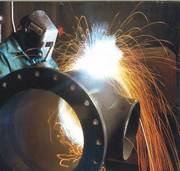 Mike Heinrich, VP Operations, Boardman, LLC. Mike has been with Boardman for 11 years, starting as a welder and moving on to QC, welding manager, shop foreman, and now as vice president of operations. He has been active on the ASME Sect IX BPV Committee and recently became a member of the Section IX BPV Resource and Development Group, which sets the rules and guidelines for welding qualifications, welder performance qualifications, and welding code requirements. 
Phoenix Forging Company
Phoenix Forging Company, a member of the Phoenix Forge Group, is a proud domestic manufacturer of steel tank and cylinder fittings based in Catasauqua, PA. Phoenix Forge was founded in 1882.
www.phoenixforge.com
"Networking at STI/SPFA meetings has given us new ideas to manufacture our products more efficiently."
Sonny Underwood
Mid-South Steel Products, Inc.