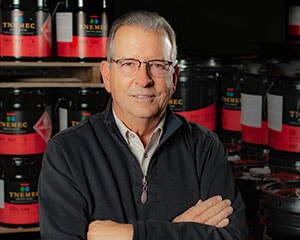 During his long career in the coatings industry, Scott Keilbey has held several positions at Tnemec, including plant employee while attending college, director of sales, national sales manager and principal representative of Midwest Coating Consultants.
Scott followed in the footsteps of his father, who also worked at Tnemec corporate headquarters as a vice president and later as a principal of his own agency. Scott's 42 year association with Tnemec has provided him with extensive knowledge of coatings technology, which he eagerly shares with his customers while working on their projects and through educational presentations.
Scott has been associated with endless industry organizations over the years, including the Society of Protective Coatings (SSPC), the Construction Specifications Institute (CSI), the American Water Works Association (AWWA), the Water Environment Federation (WEF), the Painting and Decorating Contractors of America (PDCA) and the Missouri Rural Water Association (MRWA). He earned his bachelor's degree in Business Marketing at Northwest Missouri State University.