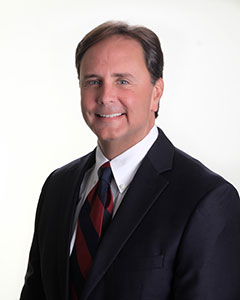 Paul Looney serves as Vice-President of Strategic Public Affairs. In this role, Looney advises clients in all areas of the energy supply chain – upstream, midstream and downstream sectors – on government, regulatory and strategic business matters. He works with energy companies and organizations on a variety of environmental compliance-related issues and state and federal guidelines at agencies that include FERC, DOE, EPA, DOI, TCEQ and the GLO. Practice areas include environmental, social and governance (ESG), alternative energy, and development of renewable energy projects.
Most recently, Looney was Principal with Cornerstone Government Affairs, a Washington-based lobbying and advisory services firm. He worked with clients in their Advisory Services practice in areas that included power generation, utilities, L&G and pipelines. Looney also worked with the firm's clients in the areas of corporate development and strategy.
Prior to Cornerstone, Looney served as Executive Vice-President of Business and Strategic Development at HBW Resources where he worked with clients in the upstream and mid-stream business segments in developing legislative and regulatory strategies at the federal and state (TX) levels. Clients included Golden Pass LNG, Noble Energy, Williams, Energy Transfer Partners and Enable Midstream Partners.
Looney co-founded the Washington, DC-based lobbying firm the Washington Capitol Group (WCG) in which the firm focused on energy and national security-related issues. He specialized in working with clients in the authorization and appropriation of federal projects within the DOE, DOI, DHS and DOD. Prior to WCG, Looney served as Government Affairs Director of the American Institute of Aeronautics and Astronautics in Washington. In this capacity, he oversaw the trade association's federal government affairs program.
Looney began his career as a legislative aide to U.S. Congressman Ed Royce where handled the Congressman's energy, defense and aviation portfolios. He also served as Special Assistant, Congressional Affairs, at the Department of Interior's Bureau of Land Management where he worked on legislative and regulatory matters pertaining to pipeline and utility right-of-way, mining, ESA, environmental reclamation and oil and gas royalties.
Looney holds a B.A. from the University of Texas at Austin and an M.P.A from George Mason University. Looney enjoys playing golf with his group of golfing buddies and looks forward every fall to watching his beloved Texas Longhorns play football in Austin.