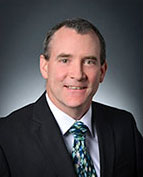 Mark Mooney is the Director of Operations for NBBI JRS.
Mr. Mooney has 35 years of industry experience as a boilermaker, operating engineer, inspector, and manager. Mooney was the Massachusetts chief boiler inspector for 12 years before joining Liberty Mutual, where he oversaw the commonwealth's jurisdictional inspection and licensing program for elevators, amusement devices, boilers, and pressure vessels.
A former member of the National Board's Board of Trustees from 2001 to 2009, Mooney chaired the National Board Inspection Code Subcommittee on Inspection for many years after. A graduate of Massachusetts Maritime Academy, Mooney maintains a Massachusetts 1st Class engineer's license, along with a National Board Commission. He has held jurisdictional commissions in 35 states.